SEMI-HIDDEN STAINLESS TRIM-HEAD SCREWS
THE LOWEST-VISIBILITY FACE FASTENER ON THE MARKET!
The Beautiful Deck Company's hidden deck fasteners are the perfect solution to keep your trim and deck boards secure - they install as quickly as normal deck screws, yet their low-visibility won't inturrupt the natural beauty of your decking and trim boards.
Their trademark W-cut thread design and unique zip-tip will prevent splitting near board ends on small trim boards. The screws trim head is large enough to secure boards tightly onto the substructure, yet small enough to largely disappear as it self-countersinks into the board.
The high-torque star drive and hardened steel on these unique screws prevents stripping despite the tiny head.
Designed for quick and very attractive fastening of :
ungrooved deck boards
railings, skirt & face boards, steps, benches, furniture
any trim application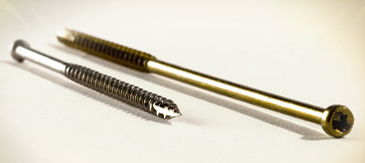 Always use Stainless Steel fasteners on DiamondWood to prevent black staining.