DECKWISE® STAINLESS COLORMATCH TRIM SCREWS
THE BEST LOOKING SCREW ON THE MARKET!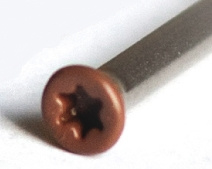 Deckwise Colormatch screws are ideal screws for installing deck boards, railings, skirt boards and trim pieces. Their small coated brown heads blend in with the natural colour of most woods, especially oiled tropical hardwoods like Ipe and Sandeka.
Unlike coated screws, Deckwise screws are made from high quality 305 stainless steel so they will last dramatically longer when exposed to the extremely corrosive chemicals in ACQ Pressure Treated deck frames.
Stainless screws are recommended for all tropical hardwoods for two very important reasons. For starters, coated screws tend to react with the tannins in tropical hardwoods and cause unsightly black streaks. Secondly, a major selling point of tropical hardwoods is that they last for decades - it only makes sense to choose stainless fasteners with similar longevity.
The high-torque T15 star drive heads maximize torque without stripping and allow for a reduced head size to make the screws less noticable.
Designed for quick and very attractive fastening of :
ungrooved deck boards
railings, skirt & face boards
steps, benches & furniture
any trim application
Always use Stainless Steel fasteners on Tropical Hardwoods to prevent black staining.